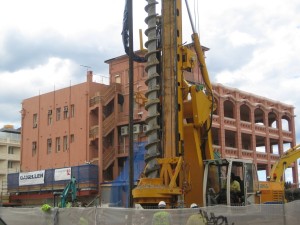 Last year The Bondi Tram Disco part of the Bondi Hotel, and the Gould Street drive-through bottlo vanished when the bulldozers came in to make way for yet another development at Bondi Beach. Known as The Beach House this new 5-storey development will comprise residential apartments and retail spaces. Waverley Councillor Mayor Sally Betts has been quoted as saying that this development is a win for residents since it removes entertainment areas and thus "some of the antisocial behaviour that was coming from the Hotel in the past." She's glad that the Bombora Bar and Bondi Tram Disco have gone.
Here are a couple of video clips that I shot in Spring 2009…
This first clip shows the destruction of the site from Campbell Parade where the Bondi Tram Disco used to be.
This second clip shows the demolition from Gould Street where the Bottle Shop used to be.
Now don't get me wrong…I didn't have any great attachment nor fondness for the Bondi Tram Disco nor the Bombora Bar and I've never exactly been a regular at the Bondi Hotel, but these entertainment areas of the Bondi Hotel, as grungy and maybe even as antisocial as they were, formed an integral part of Bondi's character.  I am really just questioning how (yet another)  block of five-star Bondi beach pads and a retail arcade adds any cultural value to a Bondi that's been steadily stripped of it's culture and character??
This obsession with taking the grunge out of Bondi over the last 20 years or so ticks me off since for me, part of Bondi's attraction was it's seedy or grungy aspect. Of course I'm not oblivious to the huge economic incentive behind these developments in Bondi but at what cost?
I'm just a bit over the whole beautification, trendification and commercialisation of Bondi (and of the beachfront strip in particular) that I've witnessed going on here over the years. I know I'll be criticised for being a raving, leftie, greenie by some for having this opinion. I  have a number of friends who own businesses in Bondi or who are Bondi residents and who I know love the endless development and trendification of Bondi. I suspect this is primarily because of the financial benefits that this brings them, but the development and over-development of Bondi is significantly changing the essential character of Bondi into something else. Maybe this subject needs to be reserved for another post, but can we please just give the development in Bondi a little bit of a break?
Does anyone else feel the same?
If you want to read more about the Bondi Hotel development, (and the developers and mega bucks behind it), check out the stories Bondi Hotel to get Overhaul, , The Beach House and Bondi Hotels get $100m Facelift.
For a  different kind of read, check out some of Adam Gibson's poetry about Bondi on this site.